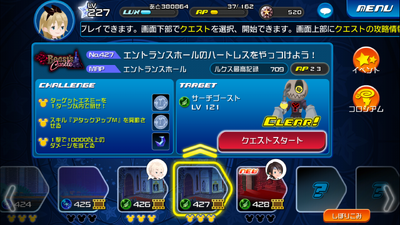 Mission number 427 takes place in Beast's Castle.
The target enemy is a level 121 Search Ghost.
Mission Challenges
Edit
Defeat the Target Enemy within 1 turn
Use the skill Attack Up M
Deal at least 10000 damage in 1 attack
Keyblade Upgrade Items
Edit
Gold Nugget (金の原石)
Ice Crystal (氷の結晶)
Melted Candle (溶けたろうそく)
Big Pearl (大粒のパール)
Completing this mission awards the Control (退治) title.
Ad blocker interference detected!
Wikia is a free-to-use site that makes money from advertising. We have a modified experience for viewers using ad blockers

Wikia is not accessible if you've made further modifications. Remove the custom ad blocker rule(s) and the page will load as expected.