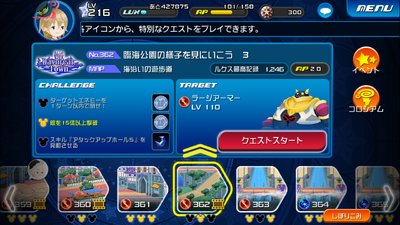 Mission 362 takes place in Daybreak Town.
The target enemy is a level 110 Large Armor.
Mission Challenges
Edit
Defeat the Target Enemy within 1 turn
Defeat at least 10 enemies
Use the skill Attack Up All S
Keyblade Upgrade Items
Edit
Copper Nugget (銅の原石)
Iron Nugget (鉄の原石)
Pure Water (きよらかな水)
Medicinal Flower (薬草の花)
Medicinal Leaf (薬草の葉っぱ)
Medicinal Bulb (薬草の球根)
Forest Mushroom (森のきのこ)
This is the mission in which the player first meets Ephemera.
Ad blocker interference detected!
Wikia is a free-to-use site that makes money from advertising. We have a modified experience for viewers using ad blockers

Wikia is not accessible if you've made further modifications. Remove the custom ad blocker rule(s) and the page will load as expected.