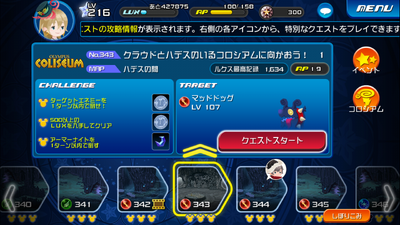 Mission 343 takes place in Olympus Coliseum.
The target enemy is a level 107 Mad Dog.
Mission Challenges
Edit
Defeat the Target Enemy within 1 turn
Clear with at least 500 Lux earned
Defeat an Armored Knight within 1 turn
Keyblade Upgrade Items
Edit
Gold Nugget (金の原石)
Copper Nugget (銅の原石)
Iron Nugget (鉄の原石)
Underworld Stone (冥界の石)
Underworld Flame (冥界の炎)
Ad blocker interference detected!
Wikia is a free-to-use site that makes money from advertising. We have a modified experience for viewers using ad blockers

Wikia is not accessible if you've made further modifications. Remove the custom ad blocker rule(s) and the page will load as expected.