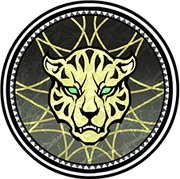 Leopardos is one of the five Unions the player can join in Unchained X. The animal representing the Union is a leopard.
The Leopardos Foreteller is a boy who wears yellow and gray robes with a yellow hood and a leopard mask hiding his face. His Keyblade is black and gold, with a lightning motif.
The mask worn by the Foreteller seems to resemble a Snow Leopard.
The Leopardos Foreteller's name has been revealed to be Gula which derives from the latin word "gula" and means to represent the sin of gluttony.
Both the Ursus and Leopardos Foretellers have dark borders on their robes and hoods.